Oct 6 2018 - 7:30 PM
Banshee In The Kitchen plays Celtic music with eclectic skill and merry abandon. Touring and recording since 2002, this group has delighted audiences in festivals, theaters, living rooms, and countless other venues from New York to Los Angeles, and as far as Japan. They take traditional Celtic tunes, find the sweet spot between old and new, stirring it all up with trademark playfulness and musicality they term "banshee-fying."
On stage, National Champion hammered dulcimer player Brenda Hunter (fiddle, hammered dulcimer) and Jill Egland (flute, accordion, whistle) trade off inspired flights of lead and counter melody over dynamic backing by Kat Edmonson (six- and twelve-string guitar, bouzouki). No strangers to the microphone, the three trade off lead and backing vocals on a choice selection of songs, as well as jocular commentary in between.
The sound is completed with the rich bass notes from Kris Wilber, alternating between her acoustic standup bass and electric bass.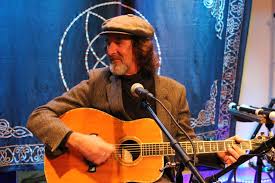 Jim Hinton will open for us. Jim's a great entertainer and knows a jillion songs, so it will be interesting to hear what he chooses for this short set.