Feb 28 2020 - 7:30 PM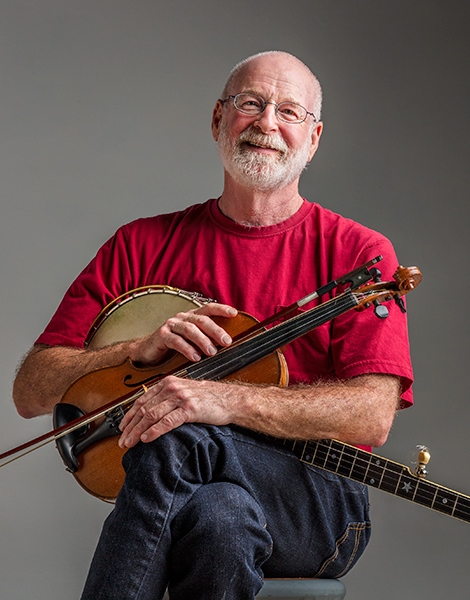 Dan is a 2017 recipients of the coveted Arizona Master Artist Award grants from the Southwest Folklife Alliance for his lifetime of achievements in the tradition of Appalachian Old Time music.
A modern day troubadour in the truest sense of the word, Dan is a full time musician who travels the country with fiddle and banjo, singing songs and telling stories of the road, his musical journey and his Southern Appalachian roots.
Dan is native of Pittsburgh, Pennsylvania. He now makes his home in Tucson, Arizona year round when he is not on the road.
His stage show, An Evening with Dan Levenson is an intimate evening of musical conversation that combines old time fiddle, Appalachian banjo, stories and song in a storytelling format to tell the story of life in rural Appalachia and life on the roads of America via the music of our country. And his new band, named for Cat Mountain, a beautiful and prominent peak in the Tucson Mountains, will have you dancing your feet off!
Dan Levenson — Fiddle, Banjo, Guitar, Vocals
From the Squirrel Hill neighborhood of Pittsburgh, PA. Appalachian music and dance have been a part of his life since earliest childhood—his dad called square dances, his mom played guitar and sang, and many old-time folk sings were held in their home. He now makes his home in Tucson, Arizona.
Dan is a multi-award winning performer, teacher, author and master of Appalachian old-time style fiddle and clawhammer banjo, and is a wealth of information on the people and stories of this American-born music. His former band, The Boiled Buzzards, which actively toured for over 10 years throughout the US and England, has been called "the most influential string band since Highwoods" (Steve Davis, The Devil's Box). He travels extensively giving workshops and concerts, sometimes solo, sometimes inviting accomplished musicians to accompany him. His Tucson-based band, The Cat Mountain Rounders, will have you smiling and dancing.
Dan received a coveted Master Artist Award and grant this year from the Southwest Folklife Alliance for his lifetime achievements in the tradition of old-time music. He has eight recordings to his name and fourteen books with Mel Bay Publications on old-time style banjo, fiddle, and repertoire, which are considered the best available.
John Walkenbach — Guitar
John, a native of St. Louis, Missouri, has lived throughout the west and settled in Tucson about 15 years ago where he plans to stay. He began playing guitar at age 12, and since then has explored a variety of guitar styles and several other instruments. While John has made a living writing computer books, nowadays, his favorite way of making music is playing old-time rhythm guitar, accompanying friends and anyone he meets who strikes up a good fiddle tune. With The Cat Mountain Rounders, he backs up the band with infectious drive and energy.
Jerry Ray Weinert — Bass fiddle
Jerry Ray, has been playing the same bass fiddle for over 50 years—really the same one. He and his bass lived through the "great folk scare" of the 1960's, concert and festival stages throughout the US, Canada, and Europe, mud-covered fiddler's conventions in the South, and dance halls throughout the West. Jerry Ray lays down the bottom line with his full-bodied, rhythmic style, and has played and recorded with many well-known old-time bands including The Hotmud Family, The Red Hots, For Old Times' Sake, The Privy Tippers, and now with Squirrelly Dan and the Cat Mountain Rounders. He is a highly sought-after bassist and has been called "the best left-handed Polish bass player of old-time music in Arizona".
Emmy Truckenmiller — Fiddle, Guitar, Vocals —
Emmy, a Pennsylvania native, has lived throughout the US and traveled extensively around the world, and now makes her home in Tucson. Her diverse musical interests include a lifetime of singing and playing guitar and piano with various ensembles, trios and duets, which she balanced with a career in biomedical science research. She took up fiddle after returning to PA where she discovered grandfather's violin. Shortly after having it restored she became immersed in the thriving old-time community there and toured with the Contra Rebels old-time contra-dance band and the eclectic Celtic/Americana group Shades of Green and Blue. Emmy now joins Squirrelly Dan and the Cat Mountain Rounders with spirited twin fiddling.