May 26 2017 - 7:30 PM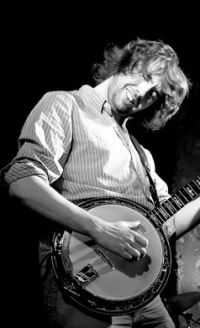 Dan gave us an amazing show last time he was in town and is touted as one of the finest banjo players in the UK as well as being a superb singer, songwriter and guitarist, Dan Walsh is described as 'the real deal' (UNCUT). He now has three critically acclaimed solo albums with new album Incidents and Accidents receiving excellent reviews. As well as many tours of the UK, he also has recent successful trips to Canada, Germany, India, Norway and New Zealand to his credit. Having made his name with duo Walsh and Pound and now a member of the award winning Urban Folk Quartet, as well as a sponsored Deering banjo artist, this unique and eclectic musician has stunned audiences across the world.
His innovative approach has led to many exciting collaborations alongside his solo work and the UFQ including tours with Northeast concertina legend Alistair Anderson and recent work with sensational Indian sarangi player Suhail Yusuf Khan as well as Canadian country singer Meaghan Blanchard. He also retains a passion for outreach work and through the prestigious Live Music Now scheme has performed throughout the UK in hospices, hospitals, special schools and care homes. He also teaches banjo both in person and over skype.
Lady Rogo (Sarah Rogo) is a vibrant performer, singer/songwriter and multi-talented instrumentalist. Guitar in hand, she is a force on stage who's music is powerful and thought-provoking. She embraces classic styles such as country blues and folk while baring her soul through her enchanting melodies and honest lyrics. She draws from her passion for activism and as eastern philosophies like Buddhism to create music that makes a difference. Critics say "She's tradition with a twist" and her music has been compared to artists like Bonnie Raitt, Eva Cassidy, and Robert Johnson. She recently completed her debut album 'I Will Give' which is available worldwide.
Sarah moved from the East Coast to her new home in Carlsbad, and is also a Yoga teacher that is pursuing healing through sound, movement, and meditation. To Sarah, playing music and practicing Yoga go hand in hand. Not only has she taught "Yoga for Musicians" at Berklee College of Music and New England Conservatory, she constantly rallies musicians and artists together to grow healthy, mindful life styles in the creative community.