May 16 2020 - 7:30 PM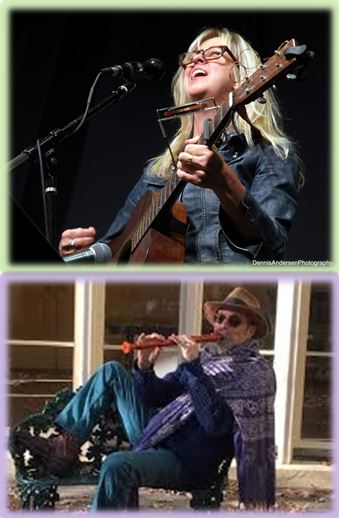 Cindy Lee and John go way back – we expect to hear some interesting stories as well as some far out songs and instrumentation.
Cindy Lee Berryhill resides in Encinitas and plays a unique brand of personal country-punk-rock tinged folk. Berryhill, like Brenda Kahn, Paleface, Beck, Michelle Shocked and John S. Hall were early proponents of the New York City Anti-folk movement. She is featured in the documentary Mariposa: Under a Stormy Sky along with Emmylou Harris, The Violent Femmes, Daniel Lanois and others. Her debut album Who's Gonna Save The World? came out in October 1987 and was followed by the Lenny Kaye produced, Naked Movie Star in 1989.
1994's Garage Orchestra album was a tin-can-pop inflected departure from her earlier folkier albums and garnered a 4 star review in Rolling Stone, and was followed by 1996's Straight Outta Marysville. In 1999, Berryhill's novel, Memoirs of A Female Messiah was released along with a live album entitled Living Room 16. Her seventh album, The Adventurist was released in 2017.
While it eschews biographical detail or a confessional tone, the album was inspired by Berryhill's life with her late husband Paul Williams. Founder of the first modern American rock magazine Crawdaddy in 1966 and a prolific writer and critic, Paul and Cindy Lee were married in 1997. Two years earlier, Williams suffered a traumatic brain injury in a bicycling accident. Following the early onset of dementia in 2004 and deepening medical challenges, he was placed in full-time care in 2009; he died in March 2013.
Cindy Lee says, "I vowed to write Paul a song cycle. Not songs of sadness or the despair I'd felt, but songs that reflected the love I had for him, and a remembering back to the enormous flood of feelings we'd had on meeting and courting. I wanted to write songs that felt like they'd come from that muse-driven place we feel when we fall in love."
---
With a dozen or so solo albums to his credit, John Kruth is a singer/songwriter/multi-instrumentalist who plays mandolin, guitar, banjo, flute, harmonica and sitar. John currently performs with The Illustrious Ancestors. As a sideman John has performed and collaborated with Laurie Anderson, Violent Femmes, John Prine, King Missile, Hal Willner, Patti Smith, Allen Ginsberg, Elizabeth Swados, Sam Shepard and Ornette Coleman.
John is the author of musical biographies including: "Bright Moments – The Life and Legacy of Rahsaan Roland Kirk", "To Live's To Fly – The Ballad of the Late, Great Townes Van Zandt", and "Rhapsody in Black – The Life & Music of Roy Orbison". John's most recent book, "This Bird Has Flown – The Enduring Beauty of Rubber Soul 50 Years On," was published in 2015 by BackBeat/Hal Leonard Books. As a music journalist, John's articles have appeared in The New York Times, Rolling Stone, The Progressive, Wire (UK), Sing Out!, Wax Poetics, Folk Roots (UK), Rave (India) and So Jazz (Switzerland). John has taught the History of Rock 'n' Roll, History of Jazz and Introduction to World Music as an Adjunct Professor of Music at Manhattan College and the College of Mount Saint Vincent in Riverdale, New York.