Dec 2 2017 - 7:30 PM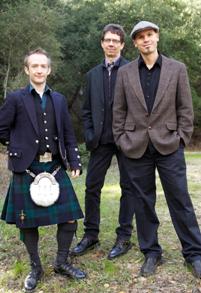 Molly's Revenge is a dynamic, acoustic Celtic band known for its unique and infectious enthusiasm. The classic combination of bagpipes, whistle, and fiddle, with a backdrop of guitar, mandola, and bodhran guarantees an enjoyable experience for all fans of Scottish and Irish music. Molly's Revenge has performed at many of the top folk festivals and performing arts events in the USA, and prestigious events in Scotland, Australia and China. Their arrangements of traditional Celtic jigs and reels bring these dance tunes up to date with a driving, hard-edged accent that always leaves audiences shouting for more.
Christa Burch joins the boys for select numbers, adding a another dimension to the show. Her rich voice brings out the nuances of emotion in her classic Celtic repertoire.
David Brewer (Highland bagpipes, border pipes, whistles, bodhran) has been playing whistle and four types of bagpipes for about 20 years. He studied in Scotland at the Ceolas Music School in South Uist under the tutelage of some of the best pipers in the world. His authentic and unique style of playing has earned him the reputation of being one of the most accomplished pipers on the West Coast. David has composed close to 200 traditional style tunes, many of which have appeared on recordings, independent films, and television.
John Weed (fiddle) is a classically trained violinist who has spent the last 20 years immersed in various fiddle styles. John lived in Ireland in 2000 and taught fiddle workshops at the Flowing Tide International Music School in Doonbeg, County Clare. He has honed his skills since, attending the Frankie Kennedy Winter School in Dunlewey, County Donegal where he studied with Ciaran O'Maonaigh and Dermot Mcloughlin. With an affinity for American fiddle styles, John explores the connection between Irish, Scottish, and old time fiddle.
Veteran picker Stuart Mason (guitar, mandola) is known for his authentic vocals and nimble skill on guitar, mandola, and banjo. He has won awards for traditional singing (Goleta Old-Time Fiddler's Convention), mandola (Topanga Banjo and Fiddle Contest), and songwriting (West Coast Songwriter's Association). Stuart Mason has been collecting and performing traditional music for over 40 years. He has appeared on stage from Ireland to China performing Celtic, old time bluegrass, and his original compositions.
Christa Burch is a sought-after performer in her own right. She possesses a singular voice: warm, supple, expressive, intimate — and instantly recognizable. Part of a vibrant new generation of American folk singers, Christa deftly marries intuitive musicianship and storytelling through song. In addition to her singing, she plays a mean bodhrán!
"You won't find a more energetic show around. They get the crowd on their feet. The audience has come back year after year and really enjoys them. We do too." — Wayne Brask, Concert Organizer
"Revered in California as one of its most energetic, exciting and innovative bands." –Shay Black, of the legendary Black family
"They bring to the music a vital and joyous creativity that excites even the hardest of hearts." –John Doyle, founding member of Solas
"The instruments are traditional… but the wild passion they exhibit is thoroughly modern." –Metro Santa Cruz (CA).
"There is an engaging freshness and yet an impressive maturity in their playing." –Mick Moloney, National Heritage Award recipient