Aug 25 2017 - 7:30 PM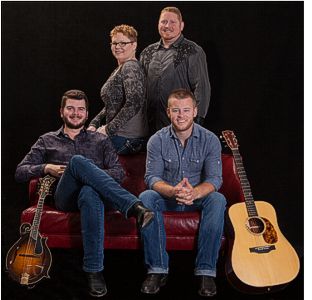 Hailing from Siler City, NC, the textbook definition of a picturesque small southern town, Nu-Blu's heart and soul is husband-and-wife duo Daniel and Carolyn Routh. Carolyn's caramel-coated soprano is one of the band's defining traits, at times a tender lullaby, at times a freight train headed straight for you, but always unwinding a surprising tale. Daniel is the group's backbone, a multi-instrumentalist and vocalist who also handles band management. TJ Honaker on vocals and banjo, and Clint White on fiddle/mandolin round out the quartet's warm, layered, American roots sound. Together they deliver upbeat, blazing-fingers pick work just as well as gentle, heartwarming ballads, and they do it all with a natural togetherness that can't be faked, forged over hundreds of shows on the road.
The band got their start back in September of 2003, the end result of several of Carolyn's and Daniel's previous projects. From the beginning, they've embodied the American working band, pushing through challenges that would bring most of us to our knees. Just a few years after their formation, their original record label folded, and Carolyn suffered a stroke that left her unable to speak, let alone sing. But barreling past those early trials toughened them, and the muscle and callouses that came with them have led Nu-Blu to ever-new heights, like their single "Jesus and Jones," which had a run on the radio charts as part of their last release, All The Way.
It's the road that ends up best defining their latest release, Vagabonds. "I love that we get to wake up someplace different every day," says Daniel. "We meet people from all over the country." Those people, and their stories, provided the timber for this most recent album, and are most present on songs like the poignant "A Lot More Love," a simple, sincere invitation to build better bridges across a divided America, and "640 Battlefield Drive," a ballad about love of country, loss, and strength. The album's standout single, the effervescent, unstoppable "Still Small Voice," was written by Devin Bell, Tony Lopacinski, and Jimmy Fortune, who says of the band, "Nu-Blu's unique sound captures the attention of your heart and soul."