Sep 22 2018 - 7:30 PM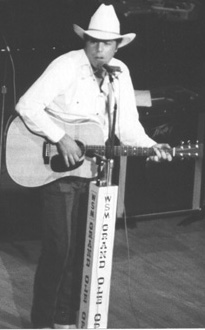 COWBOY JACK brings us THE HANK SHOW (Live tribute to Hank Williams, Sr.).
Cowboy Jack has always been an admirer of Hank Williams, Sr., the legendary pioneer of country music. As an Opryland entertainer, Jack sang 'There's a Tear in My Beer' on the Grand Ole Opry in Nashville, Tennessee.That inspirational experience is what led to the creation of this authentic singing style and the 1950 vintage replica of songs, music, instrumentation, and costumes of Hank Williams and the Drifting Cowboys.
Five piece band from Southern California includes vocals, rhythm guitar, fiddle, steel guitar, upright bass and lead guitar. A 30 minute audio cd of various country stars singing songs about Hank provides a pre-show background as the audience takes their seats. There is a 10 minute Hank Williams biographical slide show that precedes the live performance.
Two 45 minute sets cover 25 hits in chronological order from 1947-1952.
Hit songs include:
HONKY TONKIN'
I SAW THE LIGHT
I'M SO LONESOME I COULD CRY
WHY DON'T YOU LOVE ME
COLD, COLD HEART
HEY GOOD LOOKIN'
JAMBALAYA
YOU WIN AGAIN
YOUR CHEATIN' HEART
Past performance venues include Opryland and The Grand Ole Opry, Nashville, Tennessee.