Sep 16 2018 - 11:00 AM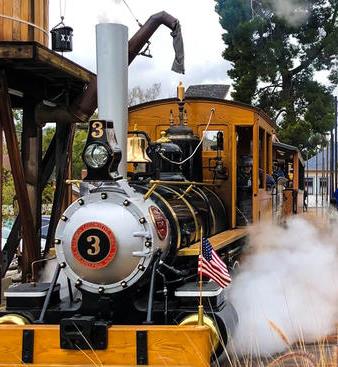 Back by popular demand and still free! An afternoon filled with music celebrating our railroad heritage. Out of commission for a couple years due to a blown boiler, the Poway Midland Railroad is again operating their No. 3 Baldwin Steam Locomotive, built in 1907.
Performers on the main stage:
11am – Clinton Davis and Nick Montmarano. When he's not heading up G Burns Jug Band, Clint Davis teams up with talented friends and plays lively old songs on interesting instruments.
noon – Witherward. First time on the FOlk Heritage stage, we're lucky to catch this incredible touring folk-pop duo.
1pm – Cowboy Jack . They don't let just anyone on the Grand Ol' Opry stage but Jack has been there. Check out his upcoming SDFH Hank Williams tribute.
2pm – Sarah Rogo. The hottest new folk musician on the local scene in years, this girl is going places!
3pm – MohaviSoul. We're happy to finally get this bluegrass powerhouse up on our stage – they've got it all!
4pm – Nathan James. Nathan is an international blues star and a local treasure. See him any time you can.