Jan 27 2024 - 7:30 PM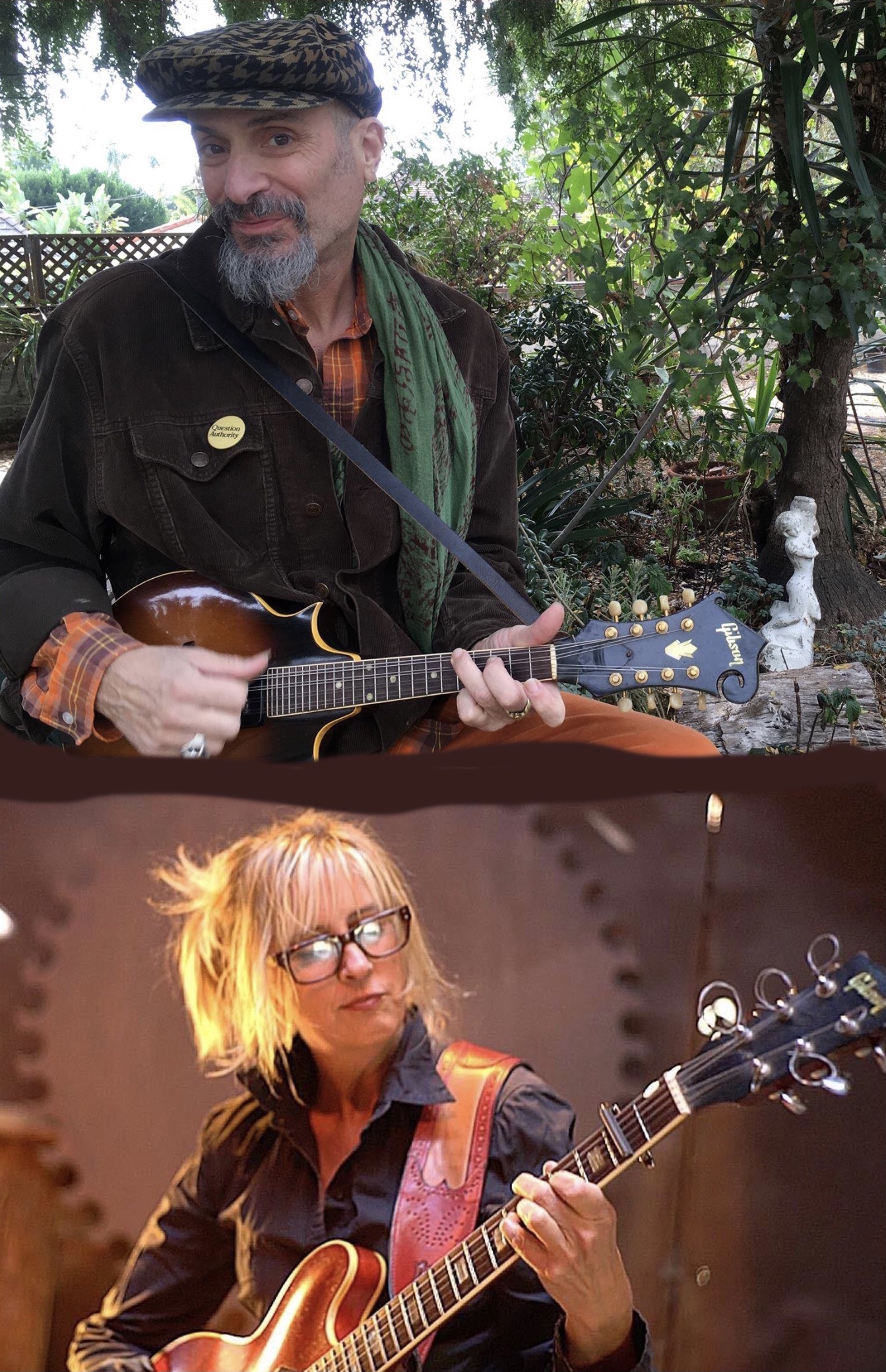 We've got two bi-coastal, slightly off-center, musical talents with a long history, coming together to do their first full show together. They met years ago in New York, reconnected recently at an show in Los Angeles, and here they are.
We last saw Cindy Lee Berryhill in the fall of 2022 at our Pilgrim Church benefit show. It's always a treat to catch up with her. She's been putting out albums since 1987. Her most recent, The Adventurist, was released in 2017.  She helped spawn the Anti-Folk movement in New York City, and was featured in the documentary Mariposa: Under a Stormy Sky along with Emmylou Harris, The Violent Femmes, and Daniel Lanois. She has published a novel, Memoirs of A Female Messiah.
When not performing or writing, you might catch Cindy Lee walking the low-tide Leucadia beaches, or passing along her musical knowledge to a few lucky members of the next generation.
"She deserves a berth in any Hall of Fame, for the humanities she brings to the usual vanities of song-writing."  

– Van Dyke Parks
With twelve solo albums to his credit, John Kruth is a singer/songwriter/multi-instrumentalist/composer who plays mandolin, guitar, banjo, flute, harmonica, and sitar. John currently leads the six-piece New York based chamber/rock ensemble The Folklorkestra. As a sideman, Kruth has jammed with Laurie Anderson, Violent Femmes, John Prine, King Missile, Hal Willner, Patti Smith, Allen Ginsberg, Elizabeth Swados, Sam Shepard, and Ornette Coleman.
John Kruth is also the author of three musical biographies to date including Bright Moments – The Life and Legacy of Rahsaan Roland Kirk; To Live's To Fly – The Ballad of the Late, Great Townes Van Zandt (winner of the ASCAP/Deemsn Taylor Award – 2007 – DaCapo Press); and Rhapsody in Black – The Life & Music of Roy Orbison. His other books include This Bird Has Flown – The Enduring Beauty of Rubber Soul 50 Years On;  A Friend of the Devil – the Glorification of the Outlaw in Song from Robin Hood to Rap; Hold On World: The Lasting Impact of John Lennon & Yoko Ono's Plastic Ono; and most recently Lunacy: The Curious. Phenomenon of Pink Floyd's Dark Side of the Moon 50 Years On.
"John Kruth is the high-octane raconteur of the Underground."

– David Amram
We asked Mr Kruth for his thoughts on the situation, and he came right back with this.
hey i'm in italy, it's late and i'm flyin' home

in the morning –

here's what

I

got …

i knew who cindy lee was back in the new york days – early to mid 80's

but for the most part we ran with different crowds

i played with anti-folkies roger manning and kirk kelly – clb's beau at the time

playing pouges style irish folk punk – but we never hung out much

til i started coming out to l.a. in pre-covid times and jammed on a few tom petty songs

with her at one of  paul zollo's tributes – then, about a year ago, last january, if i remember

correctly, willie aron and i played with the psychedelic improvisational band – mushroom

at beyond baroque in l.a. and we backed up clb for a handful of tunes – when "a moment"

occurred – that we and the audience experienced simultaneously – that this was "something,"

with great potential. we played a few shows since then – which were a gas – and are currently

working up cindy lee's next album and have plans for future gigs together – the fab mr. willie aron

of thee holy brothers (and balancing act, as well as dave alvin's latest project, the third mind)

 will be joining me on guitar, keyboards and vocals, and then we will join cindy lee for her set…

get ready for a fun, uplifting night of great songs, and fine picking.