Jun 2 2023 - 7:30 PM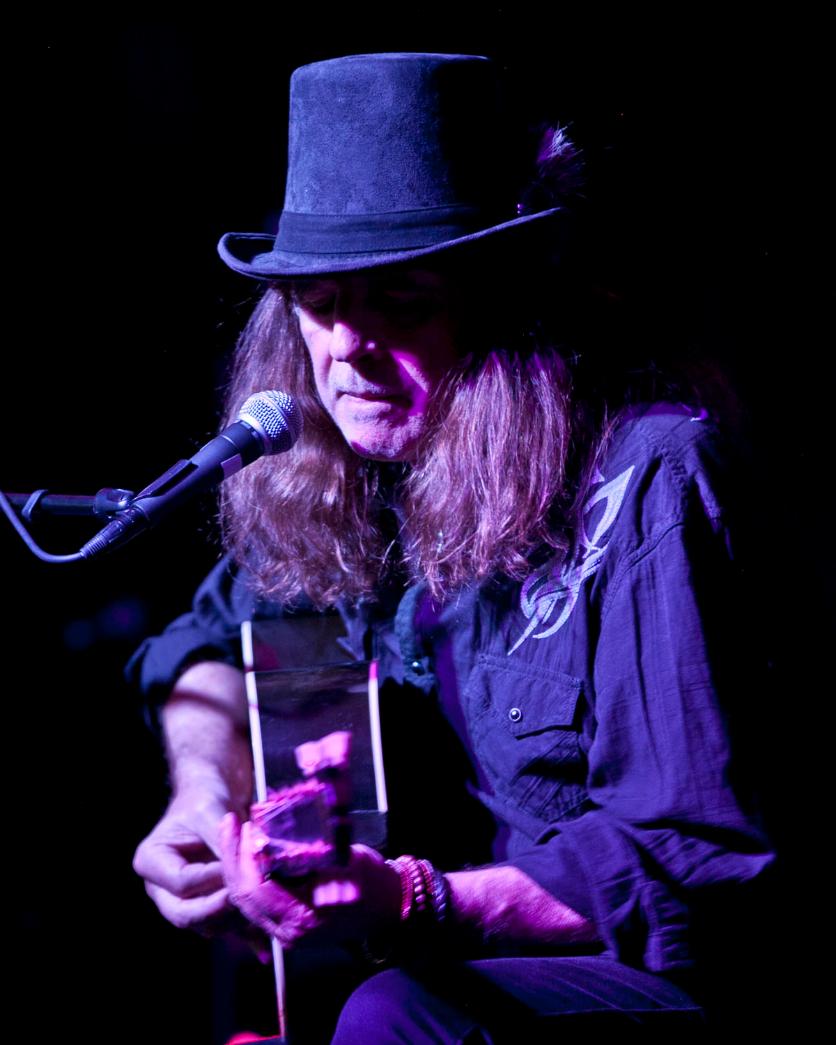 "A breathtaking acoustic fusion of blues, jazz, folk, classical and Spanish guitar from a stunning guitar virtuoso…" Altadena News
Ready for a unique and talented take on a wide range of musical traditions? Claude Bourbon is known throughout Europe and America for amazing guitar performances that take blues, Spanish, and Middle Eastern stylings into uncharted territories. He has built his local fan base through several appearances on the SDFH stage, each time leaving the audience members searching for words to describe the experience.
Claude's inimitable style incorporates all five digits on each hand dancing independently but in unison, plucking, picking, and strumming at such speed and precision that his fingers often seem to melt into a blur. Thousands of people in the United Kingdom, Europe, and the United States have enjoyed listening to this virtuoso. For the majority of his audience, it is an experience that compels them to return again and again to hear and watch him play, as his fingers lightly dance over the strings of his guitar and create a unique sound that is "Claude".
A careful listen to Claude's playing will reveal some of his influences: Paco De Lucia: Deep Purple's Richie Blackmore; Joaquin Rodrigo; JJ Cale; and JS Bach.
Claude has played countless venues, including Glastonbury Festival, Isle of Wight Festival, Colne Great British and Blues Festival, Rock O'Z Arene, Avenches, Switzerland, among others. He has shared the stage in Europe and the United States with countless musicians including Calvin Russel, Charlie Morgan (Elton John, Gary Moore), Jan Akkerman (Focus), Steve Grossman (Miles Davis), Herbie Armstrong ( Van Morrison),  and Jose Barrense Dias.
"Claude Bourbon weaved his songs through the audience as if on a journey through life taking in different flavours of Europe and beyond… from classical openings, across a whole continent of cultural roots, holding audience attention under a musical spell, his music would not have been out of place in the courts of Emperors and Kings." G. Munn)
"…His fingerpicking is exquisite and, if I closed my eyes, I could clearly hear two guitars playing. Just when I recognized a theme, he moved on with a mesmerizing cascade of notes which kept on flowing. He added a driving bass, for a version of "She knows how to stretch it". By the time he sang the first verse he had 'stretched it' from Spain to the Caucuses, and from the concert hall to the bar room. His forte is obviously his wonderful guitar work, but he does occasionally burst into song and what you then get is something between Bob Dylan and Cat Stevens, combined with a French accent! C'est magnifique." Dave Baily