Feb 3 2023 - 7:30 PM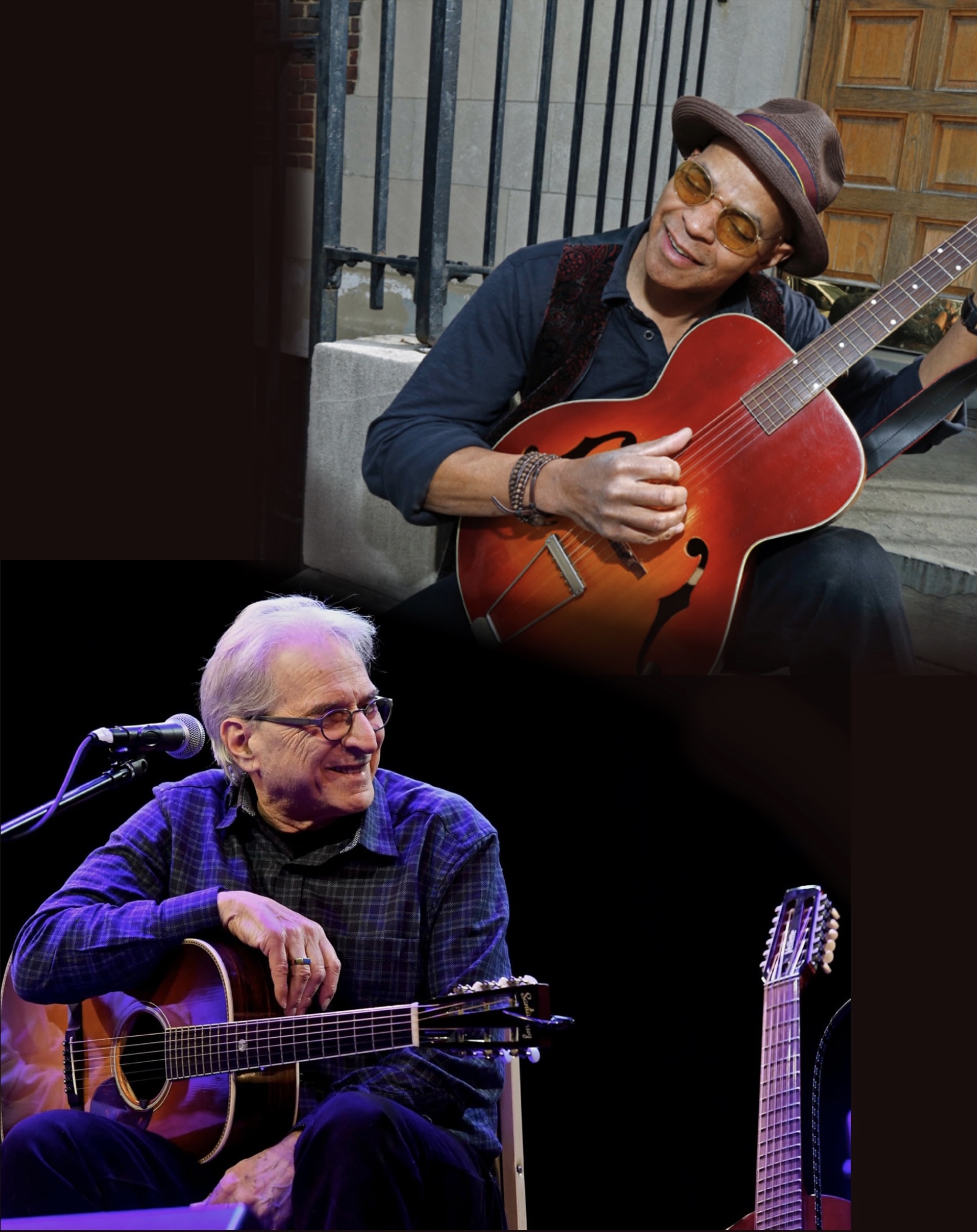 When Guy Davis got a Grammy nomination for his last album — Sonny  Brownie's Last Train, an homage to blues legends Sonny Terry & Brownie McGhee — he characteristically took it all in stride. "In my line of work, you don't depend on winning anything," he says. "I was telling my friends that if I won, I'd start being really obnoxious — so whatever's good in me, they'd better get it before the Grammys, just in case! But I had a ball at the ceremony. I ran into my old buddy Eric Bibb, and we had a good laugh about us being up for the same award. But it wasn't going to affect what I do."
As it turned out, they both lost to an upstart combo called the Rolling Stones. And Guy  went back to work. Never an artist who fit any narrow definitions of the blues, he regularly finds new outlets for his warm singing and deft acoustic playing. Both are evident on his new album, Be Ready When I Call You. But this time it's his songwriting that really comes forward. For the first time in over a dozen-album career he wrote nearly everything on the disc, Howlin' Wolf's classic Spoonful being the sole exception. At the same time he's broadened his musical reach to include everything from modern electric blues to banjo shuffles, even a touch of rap on one number.
"I call it Americana, but I slip a little world music in there too," he says. "When you're trying to create beautiful music, you don't think too much about categories. You know, I came up in the Pete Seeger tradition – folk songs, topical songs, the Woody Guthrie kind of tunes. And then the delightful entertaining kind of tunes, songs like Kisses Sweeter Than Wine. I have all that in me and I tried to let it flow a little bit in this opus."
His parallel careers — as an author, a teacher, and a Broadway and film and television actor — mark Guy Davis as a Renaissance man, yet the blues remain his first and greatest love. Growing up in a family of artists (his parents were Ruby Dee and Ossie Davis), he fell under the spell of Blind Willie McTell and Fats Waller at an early age. Guy's one-man play, The Adventures of Fishy Waters: In Bed With the Blues, premiered off-Broadway in the '90s and has since been released as a double CD. He went on to star off-Broadway as the legendary Robert Johnson in Robert Johnson: Trick The Devil, winning the Blues Foundation's Keeping the Blues Alive award. More recently he joined the Broadway production of Finian's Rainbow, playing the part originally done in 1947 by Sonny Terry — an experience that helped inspire the acclaimed Terry/McGhee album.
Tying all his work together is his love of a good story, and a willingness to speak out when there's a point to be made. "That's what I consider myself, a musical storyteller. I tend to create music but even if I didn't, I would use somebody else's music — and if I didn't have that, I would speak poems or prose. I think that all these things increase me as a performer….The songs, the plays, the descriptions, everything I do with words. They're all part of each other."
The stories on this album range from tender to topical, with a little blues philosophy thrown in. The swampy title track revisits the Robert Johnson legend, about that mythical meeting with the Devil at the Crossroads. But Guy says the phrase also has a deeper meaning, about stepping up and delivering. "When you start going for something, you better be sure what you're doing," he explains. "If you went to the Crossroads, you signed that deal and you've got to be ready when you're called. If it's something good like a Grammy nomination, you've still got to be ready. On the cover of the album there are lightning bolts in the distance, so it's a warning — maybe the same warning Pete Seeger sang about in If I Had a Hammer."
Seeger's influence is clear on one of the album's key tracks: God's Gonna Make Things Over revisits a shameful corner in American history, the Tulsa Race Massacre of 1921. The story had special resonance to Guy after he visited the site a few years back. "The Black folks just got took. They had a beautiful area called Greenwood, the "Black Wall Street," and the White folks burned it to the ground. I wanted it to be a song that calls out for humanity — not for whiteness or anti-whiteness, but humanity. But I was telling it like it was. I saw one photo of a Black doctor who in the midst of the riot, raised his hands up — that shook me so bad, just at the thought of it, and I put that detail into the song."
On the other hand, Welcome to My World is all about the present time. His first song with a hip-hop influence, it delivers a scathing message to the man who until recently occupied the White House. "I don't fancy myself to be any kind of a rapper, but I found that it worked with my facility for rhyme. Years ago my son called me up on the rhythm that rappers use when they speak — It was in me and it had to come out. This was the kind of song where the words need to bump into each other in a way that's pleasing to the ear. In terms of addressing Donald Trump specifically…Well, for four years he was the most powerful person in the world, and that was something that had to be taken in and spoken about. I found everything in him except humanitarian values. It's in the past tense now, but in a way, it's not. There are still people in there who are about nothing but positioning themselves for power."
The acoustic Got Your Letter in My Pocket tells a more personal story, about a man who learns that he's the father of his ex-lover's child. "It's not personal in the sense of specific to me, but it comes from stories I heard floating around — stories of people in my family that I never got to meet."
Though he stayed busy writing and recording during the pandemic, he's thrilled to be playing live again. "Don't get me wrong, the computer screen is OK. But I want to get back in front of people."
Happy Traum was smitten by American folk music and began playing guitar and 5-string banjo as a teenager. He was an active participant of the legendary Washington Square/Greenwich Village folk scene of the 1950s and '60s, and studied guitar with the famed blues master, Brownie McGhee.
A first-rate fingerstyle guitarist and singer, he has performed throughout the U.S., Canada, Europe, Australia, and Japan, both as a soloist and as a member of various groups. His avid interest in traditional and contemporary folk music has brought him recognition as a performer, writer, editor, session musician, teacher and recording artist.
Happy's first appearance in a recording studio was at a historic session in 1963 when a group of young folk musicians, including Bob Dylan, Phil Ochs, Pete Seeger, Peter LaFarge and The Freedom Singers gathered in Folkways Records' studio for an album called Broadsides. Happy with his group, the New World Singers, cut the first recorded version of Blowin' In The Wind, and Happy sang a duet with Dylan on his anti-war song Let Me Die in My Footsteps.
After years of teaming with his brother Artie, Happy recorded his first solo album Relax Your Mind" in 1975 and embarked on the first of many European tours, bringing him to England, France, Belgium, Holland, Germany and Scandinavia, among other countries. He toured in Japan in 2001 and 2016 as a soloist, and in 2006 with Artie Traum.
American Stranger was released in 1977 ("An absolute gem…one of the best folk music albums released this year." – Folk Scene).Bright Morning Stars was released in 1980, and Friends And Neighbors, recorded "live" in a Woodstock concert, was released in 1983. Shanachie Records released a compilation album, "Buckets Of Songs," in 1988.
I Walk The Road Again (2005) was co-produced by Artie Traum. Among many great reviews, one said: "I Walk the Road Again is a breathtaking collection of bittersweet country-folk and blues tunes…. A low-key masterpiece, this album demonstrates that it's not the pace that matters so much as the road itself. It's a road we're glad to see Happy Traum walking so well again." – Peter Aaron, Kingston Daily Freeman
Happy's 2015 CD release, Just For the Love of It, also received rave reviews, including four stars in Rolling Stone Magazine! It was in the top five in folk radio play for several months, and was on many "Top Ten of 2015" reviewers' lists.
Happy continues a busy and productive life as a solo artist in clubs, concerts and festivals around the U.S., and collaborates with many musical colleagues: Jim Kweskin, Geoff Muldaur, John Sebastian, Larry Campbell, Cindy Cashdollar, Jay Ungar and Molly Mason and many others – including his son, Adam Traum, a fine singer/songwriter/guitarist in his own right.
In July, 2022, Happy released There's a Bright Side Somewhere, a collection of songs and instrumentals backed by nearly twenty of his very talented musical comrades from the Woodstock, NY area and beyond.
"As he shows yet again on a new album titled There's a Bright Side Somewhere, his exceptional fingerpicking guitar is unrivaled, and he brings dazzling life to traditional and contemporary folk songs." – Henry Carrigan, Folk Alley
Now in his 84th year, Happy continues to perform, record, conduct guitar workshops and classes, and produce new lessons for Homespun Tapes. One of Woodstock, NY's most revered local musicians, he can often be heard playing for large fundraisers or other community causes, trying to pay back the half-century of friendships and good will that came to him and his family in that creative, progressive community.