Aug 26 2022 - 7:30 PM
"Joel Rafael's songs are filled with passion and compassion; passion for social justice and compassion for those among us who have to struggle for a place at the table of American prosperity. His voice is unmistakably his own, big, warm and strong, and a conductor for the human emotions that connect us all." – Jackson Browne
Singer-songwriter and folk musician Joel Rafael has been writing and performing for over 50 years, beginning as a drummer with his first band, a jazz combo, in the sixth grade. In 1970s Encinitas, Joel began to play his own songs at the Blue Ridge Guitar Shop, where he also began a lifetime friendship with Eagles songwriter Jack Tempchin. Subsequently, he performed around southern California in various groups including as a duo with Rosie Flores. In the early 1980s, he found a niche in San Diego County as an opener for nationally touring acts for several local promoters, which allowed him to grow as a performer of his own original songs. Shortly after Joel recorded his first album Dharma Bums (1981) with San Diego songwriter Richard Bowen, Jesse Colin Young added him as an opener on a tour of the Southwest. In the early 1990s, with the mentoring support of Paul Rothchild, the Joel Rafael Band was born.
After releasing two albums with the Joel Rafael Band, Joel Rafael Band (1994), Old Wood Barn (1996), he was invited to join Jackson Browne's Inside Recordings for a third album, Hopper (2000), which would end up being the band's last. In 2002, with his daughter Jamaica Rafael on violin and guitar-player Carl Johnson, he wrote and performed the musical score, including five original songs, for Frank Galati's adaptation of The Grapes of Wrath, in celebration of John Steinbeck's 100th birthday. After a week of performances at the Skirball Center in Los Angeles, the live recording became part of NPR archives where it surfaces annually.
Having performed for five years at the Woody Guthrie Festival, Joel released an album of all Woody Guthrie tunes, Woodeye (2003) – which included one song for which he composed the music, and one original talking piece combined with a Woody Guthrie song. Within two years he had recorded another album of Guthrie songs, Woodyboye (2005), and this one included four additional Woody Guthrie co-writes with lyrics given to him by Woody's daughter, Nora Guthrie.
After six years devoted to recording Woody's songs, Joel found himself again touring the country, but this time as part of a road show of songwriters dedicated to presenting Woody Guthrie through his songs and prose. When it was time to return to his own songs, with more than an album's worth of material, he went to Austin and put together 13 songs with a band of musicians who backed Stillwater, Oklahoma, native and Austin icon Jimmy LaFave. The resulting Thirteen Stories High (2008) introduced a new musical collaboration embracing Joel's original work and included Steve Earle's Rich Man's War and Jack Hardy's I Ought to Know.
By the time he released his next album of original songs, America Come Home (2012), it was the year of Woody Guthrie's Centennial Celebration. Two of Joel's co-writes with Guthrie were published in Every 100 Years: The Woody Guthrie Centennial Songbook. He performed on several tribute concerts around the country presented by the Woody Guthrie Archives in partnership with the Grammy Museum; the most notable, the final 2012 show at the Kennedy Center for Performing Arts in Washington, D.C., was filmed for television.
As a solo performer and with his band, Joel has opened shows and shared stages with artists including Emmylou Harris, Jackson Browne, Joan Baez, John Lee Hooker, Arlo Guthrie, Bonnie Raitt, John Trudell, Laura Nyro, Kris Kristofferson, Dar Williams, Ramblin' Jack Elliot, Odetta, and Taj Mahal.
In 2015, Joel released a ninth album, Baladista, delivering ten essential ballads that embrace and celebrate the human spirit and reflect the half-century journey of an American songwriter.
Rose Avenue (2019), Joel's latest work, gracefully defines him and his contribution to the American canon. The ten-song masterpiece includes nine originals that reflect the honest accounting of a man in his 70th year, with a lifetime's insight into the songs he writes; as well as a full measure of gratitude for what has been, and what lies ahead.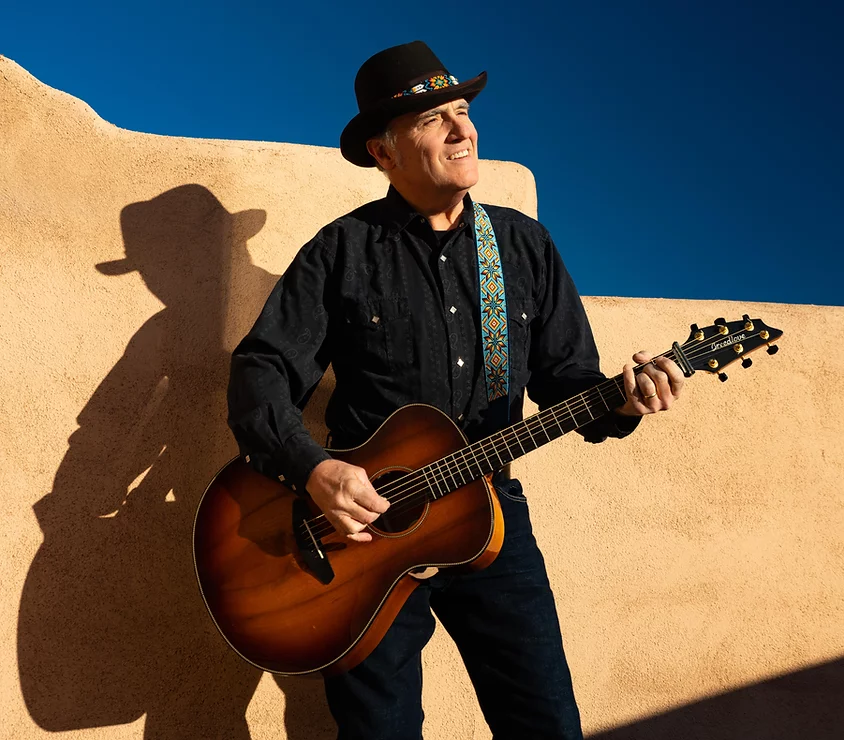 Dana Cooper moved to LA at age 20 with a record deal with Elektra Records, where he recorded his first album with members of "The Section" Russ Kunkel and Leleand Sklar, as well as other luminary players Jim Horn, Al Perkins, Jim Gordon, Joe Osborne, and Lee Holdridge. This album still wins accolades today and was recently reissued on the Warner/Japan label. After several years in California and a year recording in Seattle, Cooper moved to Texas where he wrote and performed with Shake Russell. They released several independent albums and one album for Southcoast/MCA.
Dana formed his own experimental bands, DC3 and Nuclear Family, and released his first solo project Complicated Stuff. In 1988 he moved to Nashville to pursue his songwriting career collaborating with other songwriters. His years as a troubadour is measured by his impressive 28 albums and numerous awards. Dana's songs have been recorded by a variety of artists such as bluegrass singer Claire Lynch, Irish vocalist Maura O'Connell, Nashville songbird Jonell Mosser, as well as songwriters Pierce Pettis and Susan Werner. His incredible catalogue and musical sensibilities have led to endorsements from AirPlay Direct and Elixir Strings.
Touring behind his new CD I Can Face the Truth, Dana faces hard truths head on with humor and heartfelt expression.