Jul 8 2023 - 7:30 PM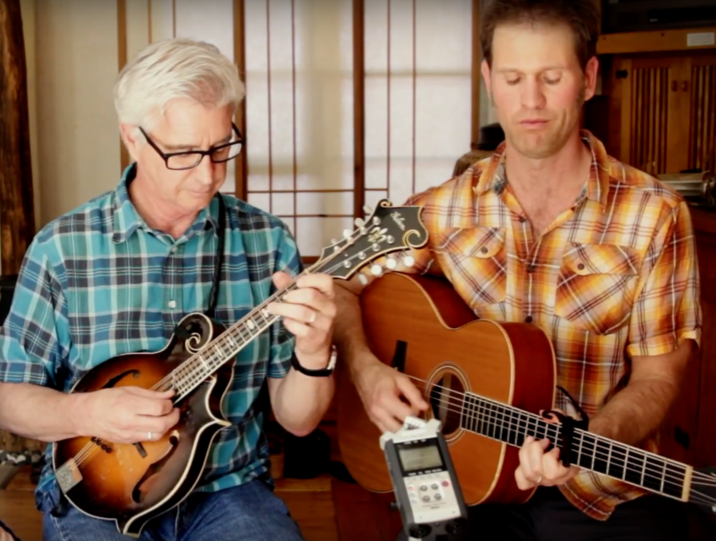 Mike and Forest have been collaborating since 2016, and it shows. Mike will kick off the concert, showing us some of his instrumental virtuosity, then will spend the bulk of the evening backing Forest on guitar, mandolin, and mandola.
Mike Mullins, San Francisco Bay Area native and current Los Angeles area resident, has been a fixture on the West Coast acoustic music scene for over forty years. Well-known for his guitar work with the Cache Valley Drifters (Bill Griffin and Wally Barnick), Mike is a highly-regarded instrumentalist and songwriter and has appeared on over 100 studio albums. In 2014, Mike released his first solo project, Windows of Time, a compendium of Americana styles showcasing a trove of original material over a twenty-five-year span. In addition to acclaim as a solo and ensemble artist, Mike is widely regarded as a top-tier mandolinist, and spent multiple summers as an artist-in-residence at the Annual Mandolin Symposium hosted by David Grisman and Mike Marshall. He was also a featured performer at the 2019 and 2021 Far West Folk Alliance Conferences. Mike's newest project, 8-String Sketches, a tour-de-force collection of solo mandolin pieces, was released in 2021 on David Grisman's Acoustic Oasis Records and is currently enjoying wide United States and international Roots and Americana radio airplay.
Forest Sun was born in upstate New York to folksinging back-to-the-land hippie parents. His dad used to chop wood with neighbor Garth Hudson of the Band and literally built the floor that Bob Dylan stood on at manager Albert Grossman's Bearsville studios in Woodstock, New York.  Weaned on a diet of Jackson Browne and Toots and the Maytals, some of Forest's earliest memories are of his dad playing Poncho and Lefty by Townes Van Zandt and his mom singing Elizabeth Cotton's Freight Train.
With over 78 million plays on Pandora,  Forest now enlivens audiences around the globe with his wealth of songs and stories, all sung and told in a laid-back California style. His soulful music draws on a deep well of Americana and is compared to everyone from Jack Johnson and The Avett Brothers to Van Morrison and Bob Dylan.  He has played festivals from California (Strawberry Music Festival, American River Music Festival) to Europe (Belladrum in Scottland, Fiesta City in Belgium), opened for such luminaries as Lyle Lovett, Bonnie Rait, Steve Earle, Keb Mo, and toured with folks like Brett Dennen, Mason Jennings, and the Beach Boys. Musical collaborations on his records include members of Bob Dylan's band, members of Calexico/Iron and Wine, Heather Massse (The Wailin' Jennys, Prairie Home Companion), Jolie Holland (The Be Good Tanyas),  JT Nero (of Birds of Chicago), Sean Hayes, jam band ALO, and bluegrass band Hot Buttered Rum.