Oct 21 2023 - 7:30 PM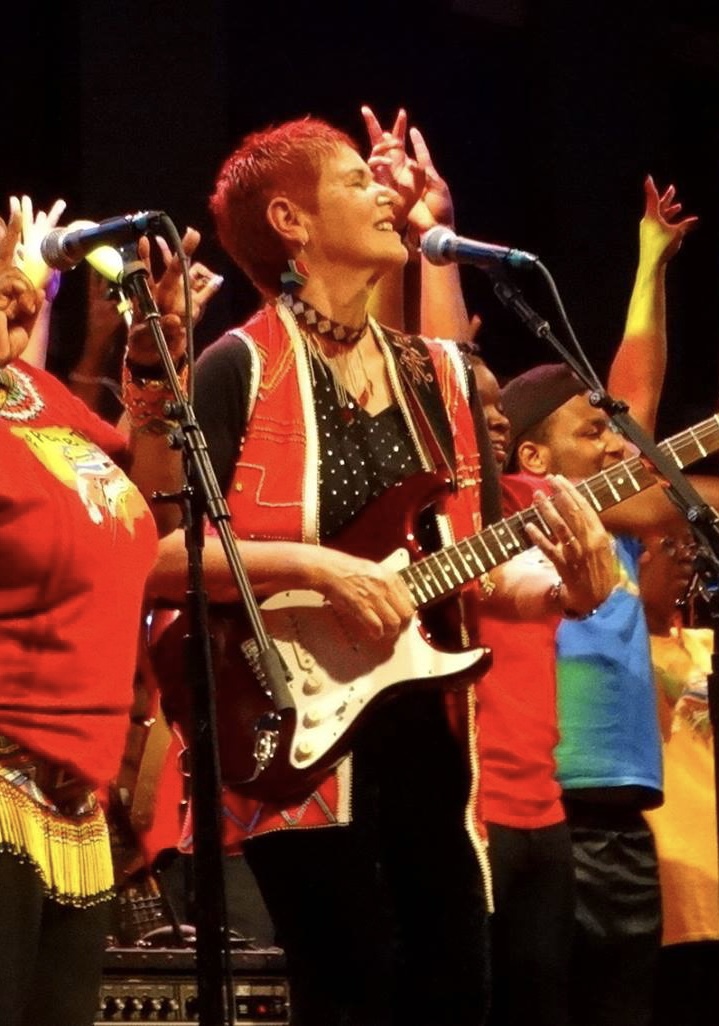 We were enthralled by Sharon Katz when she played for us at the 2023 Sam Hinton Folk Heritage Festival, for her music, her energy, and her resumé of activism reaching back to working with Nelson Mandela.
A South African musician, music therapist, and humanitarian, Sharon was born in Nelson Mandela Bay/Port Elizabeth during the Apartheid era and began her anti-Apartheid activism as a teenager. In the decades since, she has used her music for social activism around the world, has recorded with Sting, and received the Phil Ochs "Music for Political and Social Change" award.
After Mandela's election, Sharon Katz & The Peace Train became the country's first musical ambassadors of the new democracy. Their United States tours have included performances for the Getty in Los Angeles, Disney World, the Duke Ellington Center for the Performing Arts, the Smithsonian, the New Orleans Jazz Festival, and Carnegie Hall. They have been featured at numerous clubs, universities, and festivals throughout the country. Recently, Sharon has appeared in San Diego at the Central Library, La Jolla Library, Worldbeat Center, and the Sam Hinton Folk Heritage Festival. Sharon performed with the legendary South African singer Miriam Makeba and was featured on Sting's Carnival! album with Elton John, Tina Turner, Annie Lennox, Ruben Blades, and Pavarotti. Grammy-award-winners Ladysmith Black Mambazo also joined Sharon on The Peace Train. Several of Sharon's albums have been featured on the Grammy ballot for Best World Music including Imbizo, Side-By-Side, and We Can Be The Change.
At this concert, Sharon and her band will perform songs from her brand new album, For You  (which will be available on CD and all streaming platforms) as well as a tribute to Miriam Makeba. The album features six brand-new original songs including What Can We Do, an anthem for our times recorded with a South African choir, Thee Legacy, as well as Think It Over, a song about human rights for all people.
When Voices Meet, a documentary film about Sharon's music and humanitarian work with The Peace Train project, was released in 2015. Through archival footage and the twenty-year retrospective words of the original choir members, musicians, and other South African personalities, this critically acclaimed documentary went on to receive numerous awards at over thirty film festivals around the world. It has been shown on TV in over fifty countries and is now available on Amazon Prime, YouTube, and DVD.
Continuing her reputation of "converting gang members into band members," Sharon is currently practicing music therapy in the border region between San Diego and Tijuana where she has been forming choirs and teaching music to youth in some of the most gang- and drug-infested areas. She's also been working in shelters for migrant children and families, a safe house for girls rescued from trafficking, and a program for survivors of torture.