Nov 5 2022 - 10:00 AM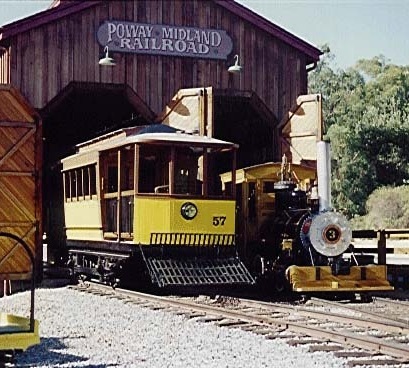 A full day of music on the pavilion, train rides, and shenanigans! Free!
10am. Robin Henkel performs blues with an intensity rarely seen in Southern California.  Drawing from the styles of Robert Johnson, Fred McDowell and Elmore James, Robin has moulded his own intense and entertaining personal style. Robin's performances often include stories and anecdotes regarding the history of the blues and  the unique vintage instruments he performs with. He is a four time recipient of "Best Blues" at the San Diego Music Awards and also a TikTok phenomenon!
11am. Enter the Blue Sky is a collection of dedicated musicians in support of passionate storytelling at its best: vocalist and songwriter Sandé Lollis, violist Karen Childress-Evans, and backing vocalist Tina Dee. Playful and lighthearted at times, the majority of their sound is a blend of poetry, and original and unique melodies that make room for reminiscing and musing, and encourage the listener to journey with them. Supported by warm inflections and textures, the sincerity of the lyrics and the band's delivery is nuanced and powerful at the same time.
noon. Bill Dempsey is a singer/guitarist/multi instrumentalist who performs Acoustic Americana (bluegrass, folk, country, Old Time).  He is a retired public school music teacher.  His father was a hobo during the Great Depression.  He has performed at numerous festivals and events on both the east and west coast.  Songs by the Carter Family, Roy Acuff, Bill Monroe, Woody Guthrie, Pete Seeger, Elizabeth Cotten, Flatt & Scruggs, Stanley Brothers, Steve Goodman, Johnnie Cash, Bruce U. Utah Phillips, etc.
1pm.  Train Jammers have been culled from the finest traditional musicians on the local scene, organized by Mary Jane Cupp (mandolin) and Paul Belke (guitar), especially for this occasion. We look forward to hearing what they pull out of the rich train song repertoire.
2pm.  Birds on a Train, an indie-folk band featuring Kristen Maher, Jessica Barlow, and Bonnie Nicholls, explore the complexities of the human experience through original songs and a fresh take on covers. They're known for tight harmonies, whimsical tastes (everything from alt-rock and Americana to gypsy jazz), and irreverence for everything but the good green earth. And birds. And trains.
3pm. Dave Preston and the Grown Ups reflect the familiar folk, country, and Americana that we all know and love, but also folded into the mix is a blend of original songs that touch on the soul of America with its authenticity and earnest delivery by Dave, supported by his band, the Grown Ups. He is a mere child without them, he knows this, but he does his best to go to bed early, eat all his vegetables, and put on a good show.