Nov 11 2023 - 10:00 AM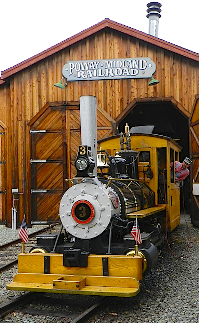 http://www.powaymidlandrr.org/
A day full of train songs, with more adventures around Old Poway Park. All free!  The Poway-Midland Railroad will be running the narrow-gauge vintage trains around the park for a nominal fee, which goes to support the nonprofit organization that maintains the railroad.
10am Hullabaloo. We're going to start the day with family-friendly folk fun from our friends at Hullabaloo. Grab something from the farmers market and bring the kids on over.
11am Patty Hall. We go way back with Patty and have coaxed her out of her pandemic pause for this show. Her shows make people happy!
Noon Cowboy Jack. Cowboy Jack knows ALL the classic country songs, and knows how to deliver them so you know he means it. This man is the Real Deal.
1pm Sara Petite. We've been trying to get Sara back on our stage for some time and are excited to let her share her energy. She shows what a century of American music sounds like filtered through the psyche of a 21st century west coast woman.
2pm Clinton Davis. It's doubtful there's another San Diegan as versed in old time folk music repertoire, and certainly not one as skilled at so many instruments. We don't know if he'll be playing guitar, banjo, fiddle, or his banjo-mandolin – but we know it's going to smoke!
3pm Tyler Grant. We're tickled to get this man on our stage for the first time. He's an icon in that world where Doc Watson and Jerry Garcia equally inspire guitar pickers, and we hope to see more of him, so make sure you stick around and say "Howdy".