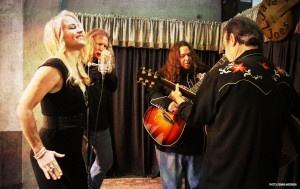 This Saturday May 2nd, San Diego Folk Heritage is excited to welcome not one, but five stellar musicians to our Encinitas stage in the form of local Americana act Berkley Hart Selis Twang, featuring notable songwriters Jeff Berkley, Calman Hart, Eve Selis and Marc "Twang" Intravaia and special guest opener Barbara Nesbitt (a former San Diegan who now calls Austin home).
In the interest of folk heritage, we challenged each songwriter to revisit their personal music heritage and recall their first songwriting experience. Over the next few days, we'll be revealing their answers one by one!
Jeff Berkley: "I do remember writing my first song. Maybe I was 17? It was about love and loss. I don't remember it or the title even. I recorded it on my dual cassette deck that had an input for mic's and guitar cables. I'm not sure where that is? I was inspired by so much different music from Bauhaus to Dylan. From The Replacements to Woody Guthrie. Pink Floyd, Nick Drake, James Taylor, ACDC, all sorts of stuff. A song called "Not My Heart" I wrote when I was 19 was the first time I wrote a song that I thought was good. That song ended up on a Berkley Hart record called Crow that came out just a couple years back. It was inspired by The Waterboys Room To Roam Record! There's a song called "A Bang On The Ear" that I love!!!! It moves the same as "Not My Heart" did when i wrote it in 19…"
Here's one of our favorite Jeff Berkley-penned songs from a 2014 house concert performance:

Check back in tomorrow for the next installment of our series with Calman Hart! For more info/tickets for Saturday's concert, click here.