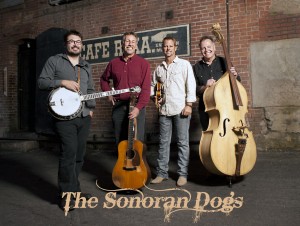 San Diego Folk Heritage is looking forward to hosting Arizona-based bluegrass band The Sonoran Dogs on Saturday, July 11 at San Dieguito United Methodist Church.
We're always interested in learning about a bands inspirations and aspirations, so we invited band member Brian Davies (bass/vocals) to share a few songs he wishes he penned. Enjoy!

I once heard that "Margaritaville" is played on the radio somewhere in the US every minute and a half. Just think of the royalties…

One of the greatest songs ever written is Woody Guthrie's, "This Land Is Your Land." It will go on forever as a mainstay folk tune.

"The Times They Are a Changing" by Bob Dylan, is as poignant today as it was in the 60's. Great tunes! Wish I had penned them all.
Hope to see you all in Encinitas for a great evening of bluegrass music with The Sonoran Dogs. Click here for more info and tickets!