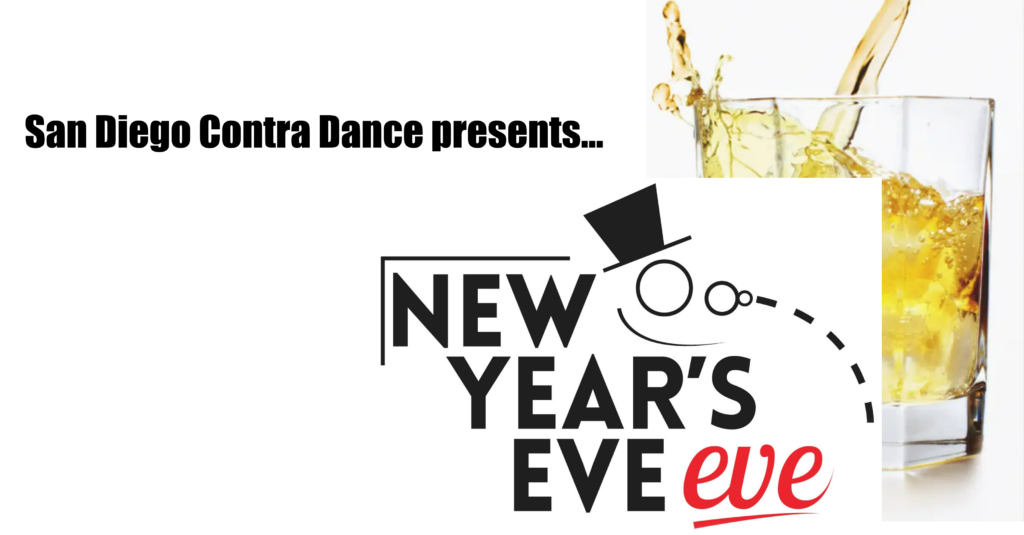 December 30, 2022
Warm up for your New Year's Eve dancing with our New Year's Eve Eve event!
Who: Our band, One Dollar Whiskey, on the rocks! is from the Seattle area and features PenkaJane Čulevski on fiddle, Brian Lindsey on fiddle and banjo, Alex Sturbaum on guitar and accordion, with Ness Smith-Savedoff on drums. Local callers Frannie Marr, Martha Wild, Ellie Konitshek will call a great lineup of dances to keep you on your toes and twirling.
When: The dance proper will be from 8:00 to 11:00 pm with a beginners' session at 7:30 for newcomers, anyone who wants to knock off some of the rust, and those who would like to help them do it while meeting new friends.
Cost: Sliding scale of $20-$40 (cash is gladly accepted as is Venmo)
Location: Dorothea Laub Dance Place
2650 Truxtun Road, Studio 200, San Diego, CA 92106 in Liberty Station
COVID policy: We continue to require masks and are requesting proof of vaccination (including a booster if eligible).

Don't forget: Please wear dance shoes with soft or suede bottoms, sneakers/running shoes specifically used for dancing and not worn on the street, or ballet slippers (or dance barefoot). We request no dance shoes with a tapered heel in order to preserve the dance floor.

We look forward to dancing with you then!
Contra-bution Campaign!
Show your love for dance with a personalized Contra-bution button. Get yours by completing the donation form below the image!