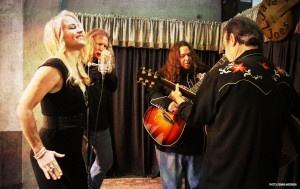 This Saturday May 2nd, San Diego Folk Heritage is excited to welcome not one, but five stellar musicians to our Encinitas stage in the form of local Americana act Berkley Hart Selis Twang, featuring notable songwriters Jeff Berkley, Calman Hart, Eve Selis and Marc "Twang" Intravaia and special guest opener Barbara Nesbitt (a former San Diegan who now calls Austin home).
In the interest of folk heritage, we challenged each songwriter to revisit their personal music heritage and recall their first songwriting experience. So far you've heard from Barbara, Jeff, and Calman. Here's Eve's first songwriting memory:
Eve Selis: The first song I ever wrote was with my older sisters and our neighbor. It was 1971 and I was 8 yrs old. We wrote it as a surprise for our dad's 38th birthday. My mom paid $100 for all 5 girls to go into a recording studio and then had a 45 rpm record made for our dad. My sister Lee played guitar on it. I can't remember what it was called – possibly "Laugh, Sing, Live." But I do remember the lyrics. It's very cheesy and sugar sweet but the entire experience obviously made an impression on me even if I didn't know it at the time.
The first record I ever bought was Jesus Christ Super Star and I loved to listen to Simon & Garfunkle, Loggins & Messina, Seals & Crofts and of course, Barbara Streisand because my older sister Gabrielle owned every album of hers and was in charge of the record player! It wasn't until I heard the song "You're So Vain" on the radio that I knew I wanted to be a singer when I grew up. My sister Jeanne found the original recording reel while moving my mom and gave us all cassette tapes for Christmas one year.
Chorus:
Laugh and people will laugh with you
Sing and people will sing with you
Live and people will live with you – ooh
AhAhAh
 Share your love my friend
And it will never end
Give all the love you can
And lend a helping hand
 Chorus
Here's more from Eve on the topic of songwriting and performing…